Image Management Software

Imaging is a general term to describe a wide variety of activities involving the capture, storage, and manipulation of images. This would include capturing and storing digital x-rays, scanning documents, taking patient photos, scanning x-rays, enhancing photos, using an intraoral camera etc. Our practice management images module has some basic imaging capabilities which can handle scanning, storing, importing and cropping. The imaging module is mostly targeted for documents, but can easily be used with digital photos which can be imported from your camera. For more complex imaging requirements, you will need imaging software.

Input Optics believes that
Apteryx XV Image Management Software
is the most powerful, cost effective, easy to use image acquisition and management program designed specifically for use in today's modern dental practice. Apteryx transforms the typical paper-based dental practice into a paperless practice by allowing virtually everything to be digitized, stored and neatly integrated with your practice management software.

APTERYX FEATURES AND BENEFITS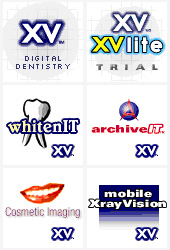 Smart Scanning Technology expertly digitizes x-ray film, paper records and photographs
Open Architecture Environment where Apteryx integrates with most all practice management software and digital equipment manufacturers.
Image Attainment displays images from any intraoral camera and allows images to be captured and organized in the Apteryx patient record
Digital X-ray Acquisition allows the acquisition of digital x-ray images from a variety of different manufacturers and organizes them in the Apteryx patient record
Digital Camera Acquisition captures images from any digital camera and organizes them in the Apteryx patient record
Integrates with Apteryx WhitenIt and Cosmetic Imaging Modules to provide cosmetic imaging capability
XV Imaging provides a complete set of tools for zooming, manipulation, enhancement, measurement, and annotation
Image E-Mail enables images to be sent electronically to peers and insurance companies

Intraoral Camera Technology
Deciding on which intraoral camera to choose becomes a difficult task because there are so many systems on the market. After doing our research, the companies Input Optics prefers is
Imagin Systems Corporation & SOTA Precision Optics
.
Our new product line
Claris i310D
is a
direct plug USB 2.0 digital intraoral camera
with a
high standard for image quality and reliability
. One USB 2.0 cable is all you need to view "true-to-life" colored images that are simply above the rest.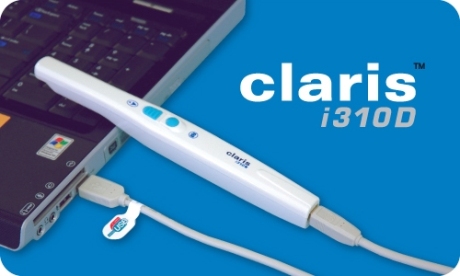 | | |
| --- | --- |
| | No docking station |
| | True digital direct plug Hi-Speed USB 2.0 connection |
| | Single Hi-Speed USB 2.0 cable connection |
| | Superior image quality and "true-to-life" color |
| | Custom designed optics |
| | Ergonomic fingertip focus and capture button on handpiece |
| | One hand operation |
| | 0.5 molar to full face focal range |
| | Detachable handpiece that weights only 2.4 oz. |
| | Auto on/off cradle |
| | No capture card required |
| | Compatible with various imaging software |
| | Easy and simple installation |
Imagin Systems was founded in 1997 by intraoral camera designers, engineers and manufacturing professionals. Many of the most innovative products and capabilities in the dental-imaging marketplace today were created by the current Imagin technical team.

HotRod
Imagin's Newest IntraOral Camera
...hits the street.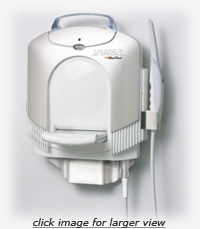 Our new little HotRod is modular in design, equipped with an anti-fog lens tip, HO-focusing optics, macro focus and the highest resolution CCD chip, just the short list of our standard equipment. Fact is, the HotRod from Imagin is destined to set the new dental standard for intraoral camera design, versatility - and best of all - patient comfort.

Hand Piece Features: Anti-fog Lens Tip, Capture Buttons, Macro Focus, Highest Resolution CCD Chip, Light Weight Anti-Torque Cable, Ergonomic Hand Piece, and Remote 0n/Off Sensing.

If you're looking for superior value for your dental practice and the optimal comfort for your patients - then the choice is simple. Test drive a HotRod today.

OPTICS X-RAY SENSOR SYSTEM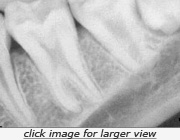 Enhanced Visual Assessment (EVA), is a filmless, digital dental imaging radiology system that produces high resolution, diagnostic quality images. The operational simplicity of digital radiography is easy to use and eliminates the inconvenience of film processing. EVA is Input Optics x-ray choice to integrate with our total digital office solution. Digital imaging requires less labor, is faster and is much safer for the patient with reduced x-ray exposure.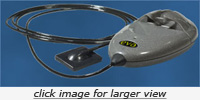 EVA utilizes patented "Active Column" CMOS technology which produces high efficiency, low noise images which are digitized and transmitted to your computer via a USB port. The system is compatible with Apteryx, Scandent and Open Source Software.

OpTIME WIRELESS X-RAY SYSTEM
The OpTime intraoral Digital Imaging System is designed to make work in the dental office easier and more efficient. The OpTime is small, easy to use and fast to operate.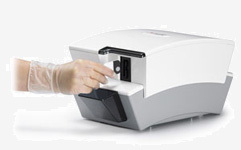 OpTime's advantages over CCD or CMOS sensors:
wireless
flexible
easy to use
same technique as film
traditional film sizing

The OpTime imaging procedure has been designed to be as simple and easy as possible so that workflow in your dental office is more efficient. The OpTime imaging procedure is fast:
Imaging Plates are as easy to position in the patient's mouth as film
the read-out process is completely automatic
read-out time is very short
no additional adapters nor equipment (such as erasure box) are needed

These advantages reduce the number of tasks you have to do thus making everyday work more efficient and flexible. This ultimately gives you more time for your patients

To see Apteryx, Imagin Sytems, Sota Precision Optics, Eva, and OpTime products call us at

Input Optics 1-800-421-2218 - EQUIPMENT LEASING AVAILABLE